How to make Money using the Streakcatcher
Authored by 4-Time Champion Sports Handicapper Ron Raymond
*Note: Before we get started, you will need to register for a free Streakcatcher account, then once you have created your profile, return here to read this article on how to make money playing Streakcatcher! Nothing beats winning on a daily basis!
Potentially Earn $800 in 7 Days at Sports Betting!
Ask yourself this question and be 100% honest with yourself... am I betting because I just want action on the game right now or am I serious about making money in the long run?

The number one rule about making money at sports betting; know how much money you can afford to bet on each game. I've seen it over and over again the last 15 years.

You make a $250 deposit into your Bookmaker.com account, and within 7 days, you've already brought your account to zero! I've seen it again and again and to be honest, I use to be one of those bettors. You're always trying to find the winning way or cycle to make money. However, I've learned the hard way to make money and I'm going to share with you "one of the best ways" to make money at sports betting.

Here's the hard part, you will need to trust me and I say this in the most respected manner possible, "keep your ego checked at the door, and get ready to follow other people's picks." This will take half the stress away and it will save you countless hours of handicapping.

If you've agreed thus far, keep reading.
3 SIMPLE STEPS TO WINNING
Step #1; Deposit $500 into your Bookmaker.com account.

Step #2: Create a free Streakcatcher account at Phoenix Sports.

Step #3: You will wager 5% of your bankroll during each cycle.
Are you are ready to make some money betting on sports? More importantly, you will have fun doing it!
How the Betting Cycle Works
Parity in sports has made it impossible to win on a consistent basis, once you've come to realization about this fact; you've won half the battle. Nobody wins at a 60% or higher rate anymore, nobody! The way the system works nowadays, you have to follow the hot hand and the person who's got the golden horse shoe is the "person of the hour".

The Streakcatcher is the perfect system to use because it keeps track of people who are on a winning streak and the picks will always be either -110 with the spread for football (NFL, CFL, NCAAF) and basketball (NBA, NCAAB ) and for hockey, soccer and baseball, it will be -125 or lower or underdog money.

Wait until a player reaches 4 or more wins in a row at the Streakcatcher at Phoenix Sports and then start stage #1 of your betting cycle.

Here's an example on how you would do this with a $500 bankroll.
Investment Cycle Stage
(During the first 2 days of the investment cycle stage, our goal is to get our original investment back and to wager with house money after.)


Day #1: Bet $25 on the Streakcatcher pick (Pick wins – Continue)

Day #2: Bet $25 on the Streakcatcher pick (Pick wins – Continue)

*Note: As you can see, we wagered $25 on day #1 and #2, because you want to put your initial wager of $25 back into your account on Day #2, as this is your original deposit and now you are betting with house money the rest of the cycle. Profitable Cycle Stage

Day #3: Bet $50 on the Streakcatcher pick (Pick wins – Continue)

Day #4: Bet $100 on the Streakcatcher pick (pick wins – Continue)

Day #5: Bet $200 on the Streakcatcher pick (pick wins – Continue)

Day #6: Bet $400 on the Streakcatcher pick (pick wins – Continue)

Day #7: Bet $800 on the Streakcatcher pick (pick wins – stop and start over)
Keep in mind, there comes a time when you have to know when to stop, because greed will eventually ruin your betting experience in the long run. Now, if you make it to Day #7 of the cycle and win, you just won $800 on a $25 initial investment. Take a few days off, enjoy your success and then start up again.
Plus, there's going to be times when your Streakcatcher player you're following is going to lose during the cycle, but if you've made it to day #3 of the cycle, you've broke even and you can start over again. It's important we get to Stage #3, as this is the profit stage of the system. Once you're pick loses, then start over again on another person who is hot.
As you can see in this system, you are always following a winner, somebody who is hot and has proven themselves with their last 4 picks. You don't want to jump on somebody who's just won 1 or 2 picks in a row, they haven't proven themselves yet.
STREAKCATCHER BONUSES STAGES (When you play)
Here's the best part about using the Streakcatcher program and betting your cycles at Bookmaker.com. Remember, you can play Streakcatcher yourself and try to get your own streak going and every time you win 7 picks in a row, Bookmaker.com will give you another $250 free play into your betting account. Therefore, you just made $800 using our system by following somebody's winning streak and in 7 days, you just made over $1050 using our Streakcatcher system, if you won 7 picks in a row.

*NEW PLAYER BONUS: Keep in mind, if you're a new Bookmaker.com member, they will give you another 20% sign up bonus for being a new member. Deposit $500 and they will give you $100 more into your account.
How to Join Bookmaker.com and Streakcatcher
Want to open a Sportsbook account at Bookmaker.com? Click this banner...

Open your new streakcatcher account here....
How to Fund your Sportsbook Account
INSTADEBIT is the safe and secure way to make payments online using funds in your bank account.
Why should you use INSTADEBIT?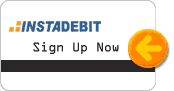 It is FREE to sign up
There are NO TRANSACTION FEES ever charged to you
You can pay directly from your bank account.
IT'S EASY to use - it's really just like writing a check.
---